Laser Tag Party in the Forest!
Are you looking for the best Laser Tag party in Surrey for your son or daughter? Here at Campaign, we have invested in the latest battlefield technology to bring you laser taggers designed for anyone aged 7+. Amazingly, they have a range of over 180 meters, keep you informed of how much ammo and how many lives you have left, and when someone is 'shot', emit a loud 'arrrrrrgghh'!

Forest Laser Tag is perfect for children's birthday parties, family outings, groups of friends, and school trips.
For our Adult Laser events – click here
Movie-Themed Battle Zones
Campaign Laser Tag London & Surrey is unique, with possibly more excitement, and fun than anything you have done before. Battles take place within our ten film-set game maps. What could be better than fighting through 100 acres of trenches, military vehicles, a Call of Duty zone or a wild-west cowboy town? The perfect Laser Tag birthday party. All equipment and camouflaged combat suits are provided, and we have complimentary tea, coffee and WiFi for the parents.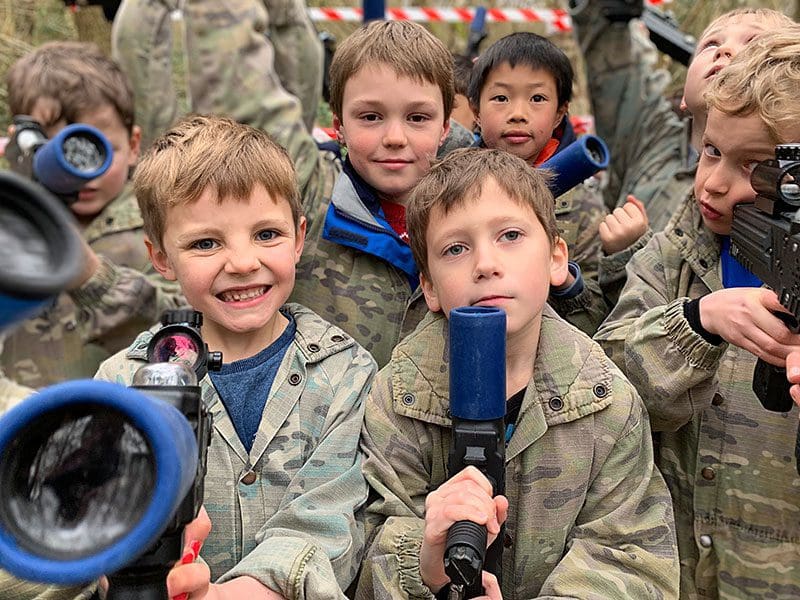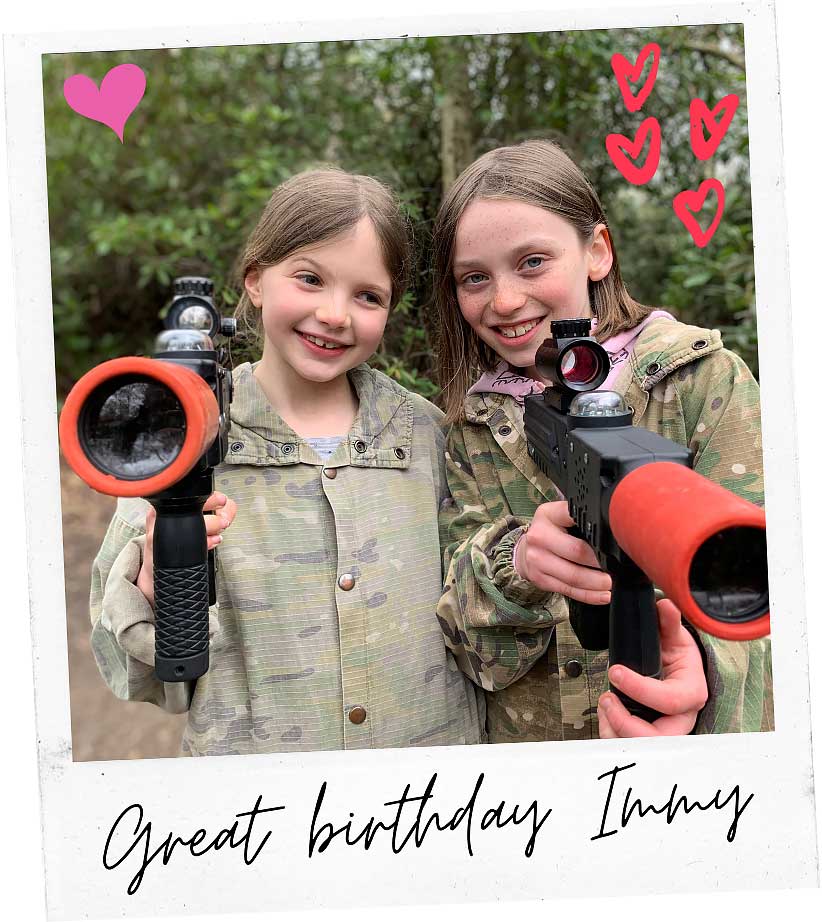 What's the deal...
Session times:
10am-12pm – 7-10-year-olds
(School years 2, 3, 4 and 5)
1pm-3pm – 10-14-year-olds
(School years 6,7,8, and 9)*
* Adults sometimes play in this age group.
There is no minimum or maximum you can book, smaller groups of a similar age are joined together to make up a team.
You can also book a private Laser Tag party for 24 or more for either time slot. (and weekdays/evenings in the summer)
Includes:
Forest shelter and reserved party table
5-7 action-packed games.
Ten movie-set-themed maps
Supervision & tuition
Camouflaged battle-suit
E11 Laser blasters
Red-dot scopes
Unlimited ammo!
Tea, coffee and water
Public liability insurance
Wi-Fi
Gazebo and log fire
Laser Tag Party Invitations
Price –  £24.95 per person
Not included:
Food – In partnership with Dominos, Pizza can be ordered with us in advance and kept warm, or you can bring your own food.
A birthday cake. On arrival, we will show you to your reserved forest shelter, where you can set up snacks/drinks and sing happy birthday at the end of the party.
Drinks and snacks – our shop sells cold drinks, snacks, cakes, etc.
Bring your party cups, plates, decorations, party bags, etc.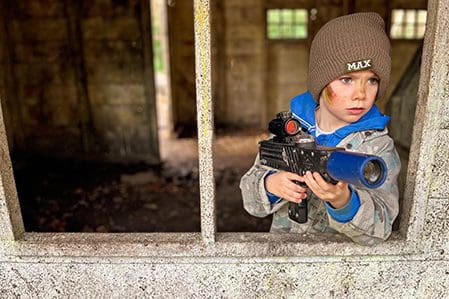 What games do we play?
The technology allows us to program different themed games. Some taken from computer games such as COD, Star Wars, Capture the flag, Fortnite, and Team Deathmatch. Unlike paintballing, with Laser Tag, we can program our equipment to have up to 40 lives per person (when you are hit, the tagger shuts down for 2 seconds); then, once all lives are used up, the equipment lets out a hair-raising scream, flashes red and stops working! Luckily, the instructors can activate respawns (depending on the game) and you are back in the game!
See more on how Forest Laser Tag works here
Time slots
•  10am-12pm. ( 7-10-year-olds)
•  1-3 pm.         ( 10-14-year-olds)
Is it Safe?
Laser Tag is 100% safe. Although the term 'Laser' is used, in fact, the taggers omit a harmless infrared light beam similar to a TV remote.
Mobile events – We come to you!
We can bring everything to you if you have a large garden, a large hall or any other suitable venue. We cover London, Surrey, Hampshire and West Sussex. See more…
Parents
For children under 12, we require at least one parent to stay for the duration. Complimentary tea & coffee is available.
A Typical Itinerary
09.50 – Arrive. Tea & coffee available
10.00 – Check-in, issue of kit
10.10 – Introduction & safety briefing
10.15 – Games 1-3
11.00 – Tea break
11.10  – Games 4-7
11.50 – Games end,  scores and birthday certificates awarded.
12.00 – Birthday cake / Pizza
12.00 – 12.20pm Depart
(Timings & number of games are approximate and for guidance only)
Local Gastropub
For those who don't need to stay (but have too far to travel home), The Black Swan is a local gastro country pub with many outside tables, serving excellent food and only 700 yards from Campaign. Other options locally include Wisley gardens, Cobham town centre, cycling the Surrey hills to the famous Box Hill or golf at The Drift club, all close by.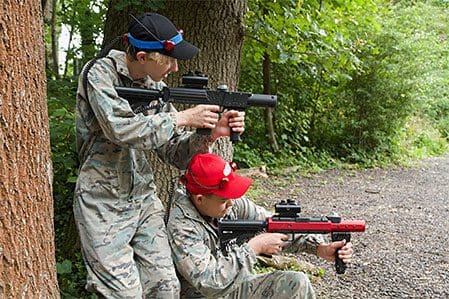 A 6-year-olds Laser Tag Party
A recent Laser Tag birthday party for 8-10 year olds
Laser Tag near me
Campaign Laser Tag is a purpose-built facility conveniently situated near Cobham in Surrey and only a short drive from southwest London. We are just 2 minutes from the A3/M25 and a 10-12 minute walk from Effingham Junction train station.
Driving: Wimbledon 20 minutes, Richmond 25 minutes, Kingston 15 minutes, Chelsea 40 minutes, Wandsworth 30 mins.
By Train: London Waterloo 35 minutes, Clapham Junction 30 minutes ( nearest station is Effingham Junction, which is only a 10-15 walk away)
You can find directions here.